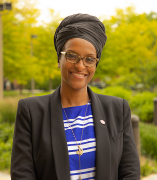 Aisha El-Amin
Associate Provost and Chief of Staff
Contact
Address:
2832 University Hall, 601 S. Morgan St., Chicago IL 60607-7128
Office Phone:
Email:
About
Aisha El-Amin holds a PhD in Policy Studies in Urban Education from the University of Illinois at Chicago, a Masters of Education from DePaul University and a Bachelor of Science in Management Studies from the University of Maryland- European Division.  Dr. El-Amin is passionate about issues of equity and justice in education.  These passions have led her to become an Illinois State Board of Education Certified K-9th grade teacher, an adjunct professor at several colleges and universities, an elected school board member for Community Consolidated School District #168, appointed board member for Routledge journal, Religion and Education, board secretary for Council on American Islamic Relations (CAIR) Chicago and executive member of American Muslim Educators. Additionally, Dr. El-Amin has served in several roles at University of Illinois at Chicago as a multi-million dollar education grant manager, director of The Council on Teacher Education, Associate Dean of Student Affairs in the College of Education and currently Associate Provost and Chief of Staff for the Provost.
Dr. El-Amin's education and experience have allowed her to be the recipient of numerous awards and recognitions, including the Muslim Women's Alliance 2016 Inspiring Women's Award, Diversifying Faculty in Illinois Fellowship, Illinois Veterans Grant and DePaul/Glenview Clinical Model Scholar.  Dr. El-Amin's activism is best captured in her leadership roles with various Chicago based organizations. Some of her roles include coordinating committee member of Teachers for Social Justice, co-founder of Bridging the Gap Inc., co-chair of Inner City Muslim Action Network (IMAN) Takin' it to the Streets event logistics, and co-chair of the Public School Initiative for Council of Islamic Organizations of Greater Chicago (CIOGC).