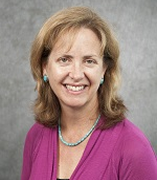 Nancy Freitag
Vice Provost for Faculty Affairs
Professor of Microbiology and Immunology, College of Medicine
Contact
Address:
601 S. Morgan St., 2731 University Hall, Chicago, IL 60607
Office Phone:
Email:
About
Dr. Freitag's research focuses on understanding the molecular mechanisms by which pathogenic bacteria cause disease as well as the host immune responses that limit infection. The NIH has continuously funded her laboratory since 1997 and in 2016 she was inducted as a Fellow into the American Academy of Microbiology. Dr. Freitag's teaching has been recognized by several awards, including three Golden Apples. She has published over seventy peer-reviewed publications and holds two patents. In 2017 she became a University Scholar.
Dr. Freitag has served on numerous institutional committees, including three terms on the University Promotion and Tenure Committee. This past year she graduated as a Fellow in the Executive Leadership in Academic Medicine (ELAM) program, a national year-long fellowship program for women that enhances leadership skills including training in program development, conflict resolution, negotiation, and decision making skills. She obtained her Ph.D. in Biological Chemistry from UCLA and served on the faculty at Wayne State University and the University of Washington before joining UIC in 2006.